Ike & Roy
A riotously colourful family home
Ike Gronheid and Roy Gisperts have created a vibrant family home that playfully balances connection with individual privacy. Their loft, in Amsterdam's up and coming west, will be able to withstand the chaos of family life for many years to come. 
Working with architecture studio FABRICations, they developed a design that rejects typical open-plan living, embracing a more intimate, flexible layout that is more focused around daily activities. 
Read more
"Different spaces are all designed for specific needs: bedrooms are only for sleeping, the dining room is for eating, working, or crafting, and the living room is for sitting quietly,"says Ike. "All the spaces are still connected to each other, so they don't feel very small at all."Wandering through the house, rooms slowly reveal themselves through a series of cropped openings. Quiet or private spaces, such as the sleeping rooms, are housed in colourful volumes, separated by light-filled voids. "We consciously opted for many openings in the loft so that even when everyone is in a different room, we still feel connected to one another," says Ike. 
Adjoining the courtyard, the sitting room is a place for the family to be together. Ike enjoys her morning coffee there against a background of excited chatter from her children, Juno and Samme, upstairs. They spend time crafting in the dining room, which is delineated by a white mesh frame hanging from the ceiling, giving a sense of enclosure without the rigid solidity of a wall. 
Family life is distinguished by moments of togetherness with a need for moments of retreat. Ike and Roy's bedroom is a private sanctuary that overlooks the lounge room below. "We did not have a strict requirement for us to sleep on one side of the loft and our children on the other, but from a practical point of view, it makes perfect sense," Ike says.
Outside, the garden is a thing to admire, a place to run around, and a hub for conversation. Ike and Roy are among a group of neighbours that volunteered to turn in a part of their backyard to form a community garden. In the summer, while the children play in the shared garden, Ike likes to sit on the wooden bench at the back to see the last sun go down. 
Their home is designed to evolve with the family and their daily rituals. When the children grow up, they will be able to do their homework at a large desk in the hallway designed for that purpose, while the studio on the ground floor can easily be adapted for new hobbies or interests. "We like having another place that can easily change function," says Ike. "Our bikes are there now, but it could just as well be a music room in the future."
Read less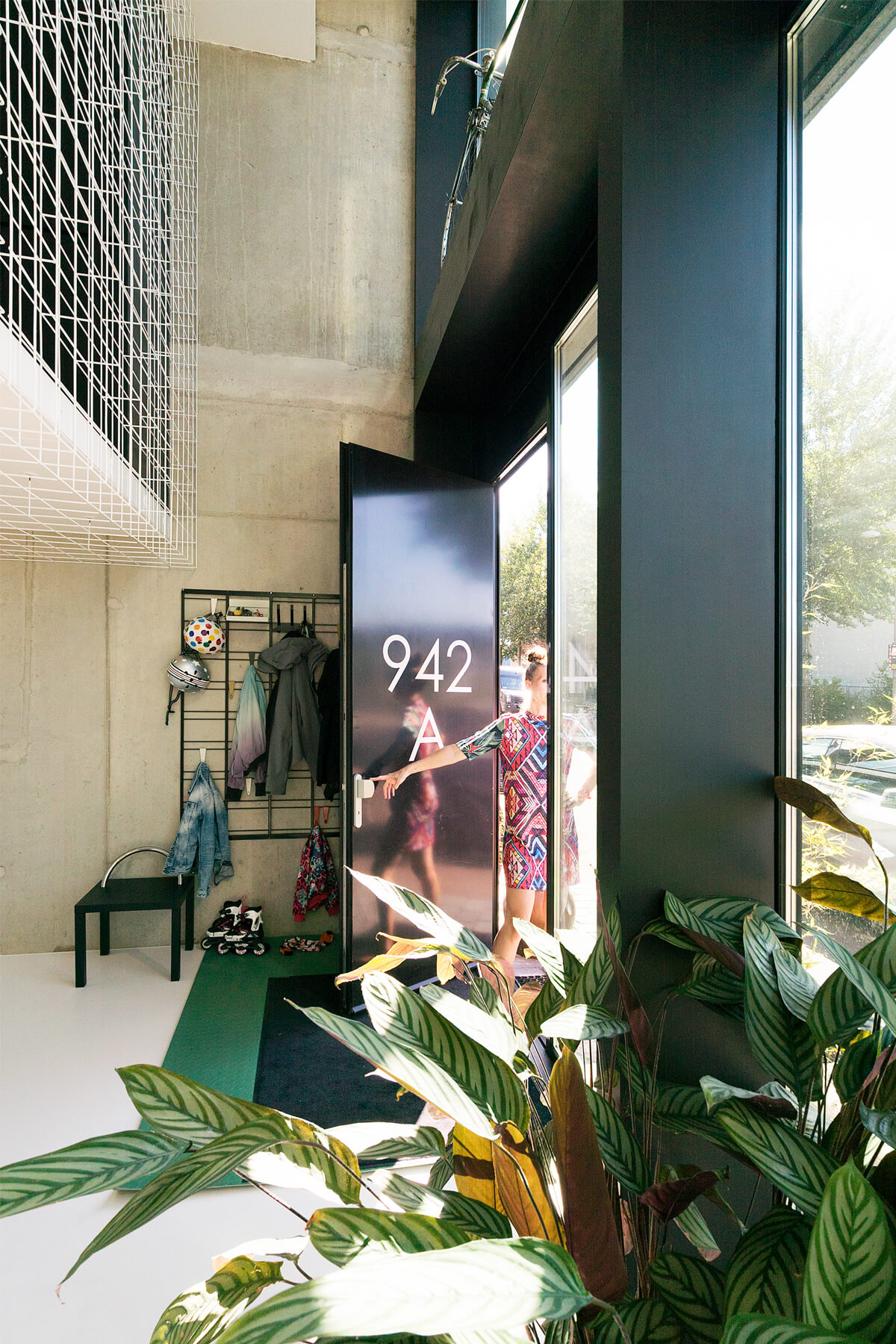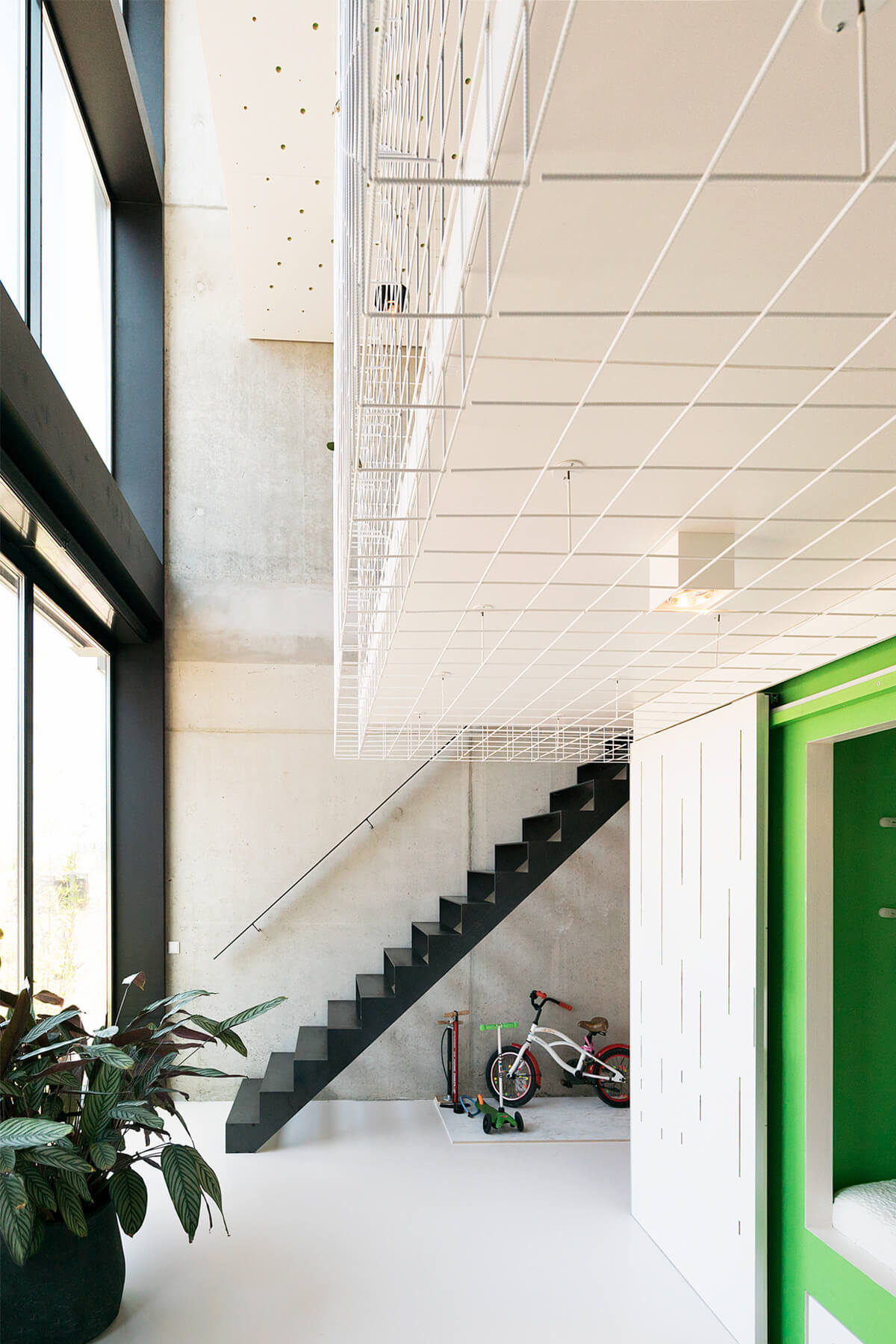 "We opted for many openings in the loft, so we feel connected to one another," says Ike.
"Different spaces are all designed for specific needs: bedrooms are sleeping, the dining room for eating, working or crafting and the living room for sitting quietly."
"We like having spaces that can easily change function."
Design: Fabrications
Interior Build
De Kunsthand
Flooring
Motion Cast Floors
Photography
Jansje Klazinga
Ike's Tips & Tricks
1. Not all contractors have experience with DIY projects. This requires a completely different communication and construction method than what most contractors are use to. This is not a 'standard' new-build home.
2. Be flexible, not everything always runs according to plan and budget and you run into unexpected things.
3. Do not start if you do not have time to be active in the project. It is a project, which is sometimes a full-time job, in addition to your normal work and private life.