Johan Pragt
A Scandinavian-inspired sustainable cabin
Johan Pragt designs buildings, interiors, and bespoke furniture that are simultaneously beautiful and environmentally conscious.
He followed a back-to-basics approach in his loft in Houthaven to align beauty and sustainability within a smaller budget.
"It has always been a dream for me to design my own house," says Johan, who was excited by the flexibility of the Superloft system. "Affordability, sustainability and circular design construction were important concepts for me. When I came in contact with the Superlofts project, I felt like my dream of synthesising these three elements could be realised."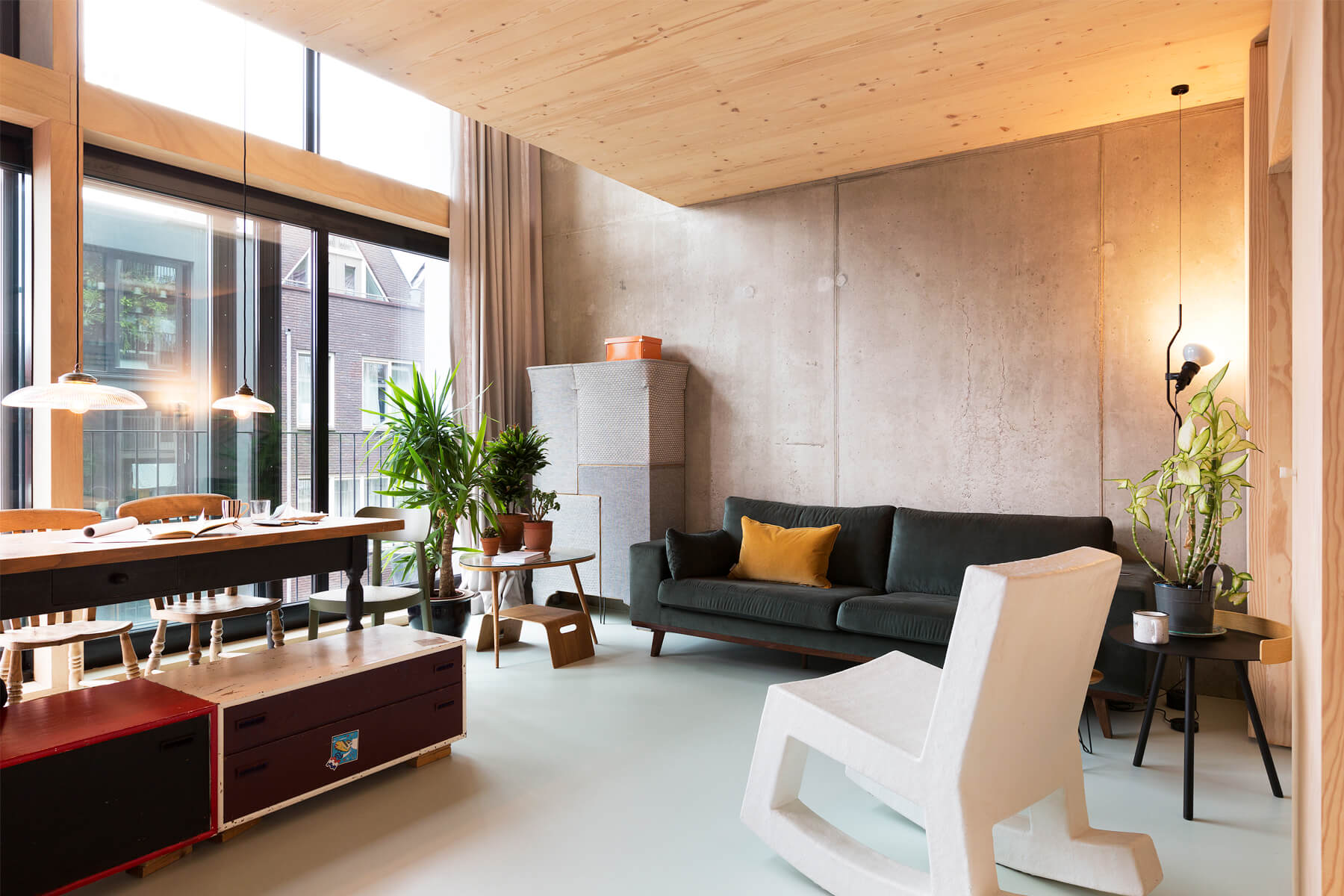 Inspired by the neutrality of Scandinavian design, Johan has created a beautifully simple loft with an open and flexible living space and an intimate sleeping area above.  
Although the loft is just 39m2, the use of a timber platform to create a loft-within-a-loft for the bedroom makes it feel much larger than it is. 
The design prioritises simplicity by giving prominence to sunlight, space, and air. "My home is a kind of studio that I consciously left as open as possible," says Johan.
His bedroom overlooks the void from a hanging timber volume. "Height gives so much breathing space, while the large, high window is a statement in the room."
Enamoured with the roughness of the loft's raw concrete, Johan says, "Texture brings a lot of life into it. Irregularities make it interesting and expressive." He also chose wood as one of the main materials to offset carbon emissions. "This is important not only for your wallet, but also for the world around us," says Johan.
"Working with volumes to make a powerful gesture."
Design: Johan Pragt
Interior Photography
Jansje Klazinga
Exterior Photography
Marcel ven der Burg
Johan's Tips & Tricks
1. It is nice have a lot of influence on the design and layout of your home.
2. Keep costs low by being environmentally conscious. It gives you a good feeling to live in a house that does not use much energy.
3. It is nice to know your neighbours, so there is a sense of a community. You sympathise with each other and follow each other's process a bit. It is nice see how everyone builds their home from scratch and turns it into something special.